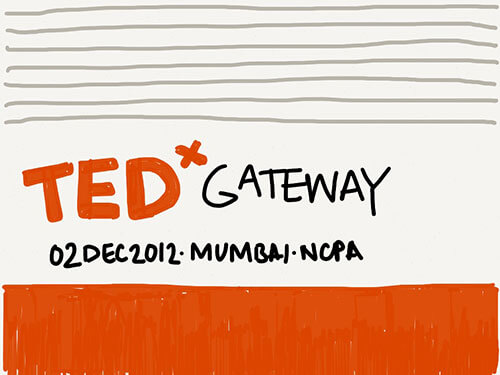 December 2nd saw the third edition of TEDxGateway hosted in Mumbai. An independently organised version of the now famous TED talks, the day brought together 21 speakers from 17 different countries for the largest event of its kind in the city.
While the TEDxGateway met its organisers' objective of sharing "unique ideas from India and all around the globe" it lacked a definition of purpose or the finesse of a curatorial narrative. Many of the presentations were made by very accomplished individuals but provided little opportunity for the larger community of gathered Mumbaikars to apply lessons to their own lives. Perhaps if the singular stories had had more relevance to the city or its concerns, the event could have proved to be a catalyst for conversations rather than comments. An entertaining Sunday nevertheless, but not always an engaging one.
*
These sketches were created live at the TEDxGateway using the Paper app on an iPad.
All sketches, text and material are © Ruchita Madhok, 2012 except where indicated otherwise. Please do not distribute in any form or medium without written permission.