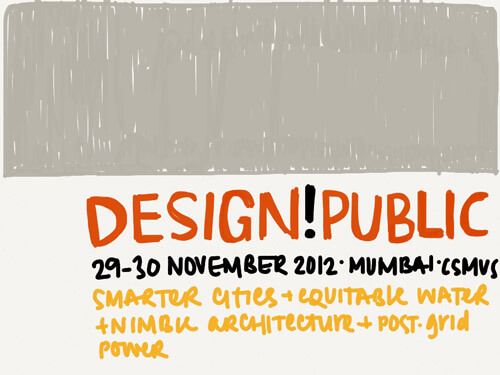 The Design Public Conclave is a platform to enable conversations between thinkers, opinion makers and doers that looks to transform India into an innovation society. Initiated by the Centre for Knowledge Studies the fourth edition concluded in Mumbai last week.
These are my sketchnotes from the 30th of November, 2012.
In summing up, I found myself echoing the concerns of Prof. M. P. Ranjan: is "innovation" some kind of doublespeak for what we call "design thinking" in design circles? If so, then is "innovation" a buzzword to cover up the possible insecurities of "design thinking". It's a hair-splitting thought, but the terminology that defines a problem also influences the participation of certain stakeholders in finding a solution. In my experience, designers are often wary of business parlance that appropriates the design process under the umbrella of "innovation", using it to fuel bottom lines and targets rather than problems and needs. The common perception on the other hand remains, however, that design is essentially a beautifying, "value-added service" rather than a credible method of tackling questions. By the end of the day, I was caught in the fuzziness of justifying the jargon that played out in panel discussions and found it disconcerting that at an event called "Design Public", the word 'design' was so rarely used.
Design Public is the kind of platform that ought to be initiated by bigger players in government and enterprise, but in the absence of political will, it is a truly commendable proactive effort from the team at CKS. I look forward to it's next edition and would recommend their website to keep track of upcoming events.
*
These sketches were created live at the Design Public Conclave using the Paper app on an iPad.
All sketches, text and material are © Ruchita Madhok, 2012 except where indicated otherwise. Please do not distribute in any form or medium without written permission.