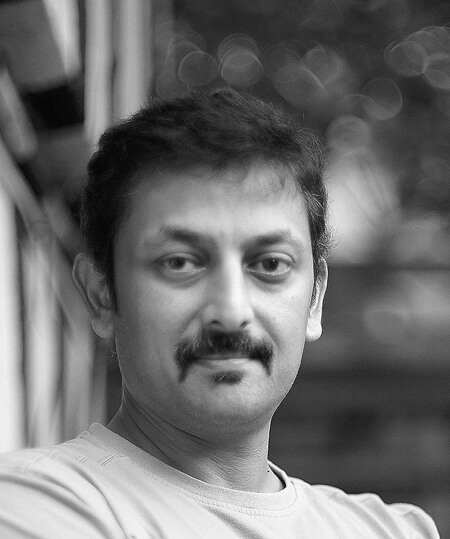 Founded in 1989 by NID graduates, Elephant Strategy + Design is one of India's pioneering design consultancies. Headed by Ashwini Deshpande, Ashish Deshpande and Partho Guha, this Pune-based firm specialises in Communication Design, Industrial Design and Environment Design.
Perch caught up with Founder-Director Ashish Deshpande to ask him a few questions about his experience in the industry and how he finds perceptions about design have changed in recent years.
This interview was conducted by email.
***
PERCH: You founded Elephant Design quite early in your career as a designer. At that point, what did you feel were the common perceptions about design in India?
ASHISH: Elephant Design was conceived by like-minded batch mates on a staircase, at the National Institute of Design over a cup of chai. Design was exciting as there was little happening at that point in India and a few of us saw this as an opportunity to do something away from the mundane. There was little support from NID or the industry in general and even our teachers and parents were skeptical. However exciting for a young blood of fresh design graduates, the industry was completely unaware of the role or importance of design in business.
Most of our early days (and for that matter even a bit of today) were spent in educating potential clients about the significance of the "D" word. Design required client patronage and it took more than a few case studies to build confidence. Businesses in general in India were grappling quality and production issues and design was seen as a gloss over. "Customer expectations", "differentiation" and "innovation" were relatively unheard words. We were dealing with largely a design illiterate mid management and a top industry leadership which had the vision but with no understanding that design could help articulate their dreams.
PERCH: Over the years, do you find that this has changed?
AD: The communication revolution that Sam Pitroda envisioned for Rajiv Gandhi, the economic liberalisation of India in the early part of 90's, paved the way for unshackling the need for design. The ability to communicate shrunk our country and brought remote markets closer. This brought about increased awareness and aspirations among people; economic liberalisation and rupee convertibility opened us out to the developed world; new market opportunities sprung up both inside as well as outside of India and business leaders were travelling, rubbing shoulders with the likes of Bill Gates and Steve Jobs. Design today is seen as a game changer by most enterprise leadership. Design evangelists must thank our government here for knowingly or unknowingly making design happen in India. Today, we have India Design Council and so possibly an ear in the government. The problem is that although a large chunk of mid-management in most organisations and the Indian government still remain design illiterate, these people cannot negate the "D" word that their bosses like to flaunt. It will, however, take a while and may be a series of intense sensitisation programs before we see a culture of design emerging across board in organisations and our society.
PERCH: In your opinion, do you feel that Indian design has  achieved the same recognition and visibility as design from other Asian nations like China or Japan? If not, then why?

AD: In India, we have had a rich tradition of design. Then the country went to sleep for the last 300 years. India is a giant that is just waking up from its deep slumber. Most Asian nations discovered the link between quality and design decades ago. In India we have to learn from our past and our people and not by aping the west. We have to move from 'Designed for India' to 'Designed in India, for India and used the World over'. The day we are able to do that, we will be visible; that will be the success tiara of Indian design. Design is not about winning competitions but about winning minds of people. How many Indian brands are globally successful? That is a question we must ask ourselves. The day Indian brands outweigh the Korean, Dutch, Japanese and the Chinese in India, that day we can proudly say that design in India has matured. India has no dearth of talent of designers and craft, yet it is the ability to innovate within our landscape for the world, which will get us the visibility and recognition.
PERCH: Do you think that the development of communication technology such as the Internet might contribute to greater appreciation for design from India?
AD: There are three facets to the practice of design: thought, process and craft. We as Indians have been evolving a deep rooted thought process for centuries and have the fortune of having a rich tradition of craft. The advent of the Internet brought the Western expertise of process closer to India. Indian design has benefited from a scientific approach to design, beginning with the seminal and now famous document India Design Report by Charles and Ray Eames. The Rays took inspiration from the existing Indian ethos to structure the future of design education in India. This was 50 years ago, but today the learning is faster: the world around us is definitely closer. Designers around the world have come to appreciate India, its peculiarities, richness in thought and traditions of craft. This has brought about a new respect for designers from India and design emanating from India. It's not a wonder to see most global design conferences to have an Indian speaker or two, most global design teams having an Indian on board. It is a global fact that today Indians are seen as good design and technology partners.
PERCH: If you had one wish, what would you like to see happen for design in India?
AD: I would like to see design reach each and every one of our common people. Design becoming a mindset, a culture that causes a quantum improvement in the daily lives of our commons. Shelter, food, transport, education, health care, all are touched by design. As a nation we will be rich the day the world recognises Indian design.