In the late 1950's India's Planning Commission invited an American expert to make a study trip to the country. The purpose of his visit was to make recommendations for the establishment of higher education training facilities whose graduates would stoke the ambitious fires of industry in a newly independent economy. One of these institutes set up in Ahmedabad went on to become the leading organization of its kind and this year, it celebrates 50 years of world-class education. Before my design-minded reader makes any inferences, I am referring not to the National Institute of Design, but to the Indian Institute of Management.
Founded in the same year as NID, IIM-A has gained an enviable reputation for being the country's premier management institution. Many of its graduates earn six-figure salaries right out of the MBA programme, going on to follow in the footsteps of the thousands who have contributed to every field of enterprise and governance. Their role in shaping the economy is respected, lifestyles envied and status aspired to, by the lakhs of hopefuls who take the IIM entrance test every year. Indeed, IIM-A together with its sister institutions have defined the management profession and ensured that Indian practitioners are among the most sought-after in the world. Could one say the same for NID or for Indian designers? Probably not.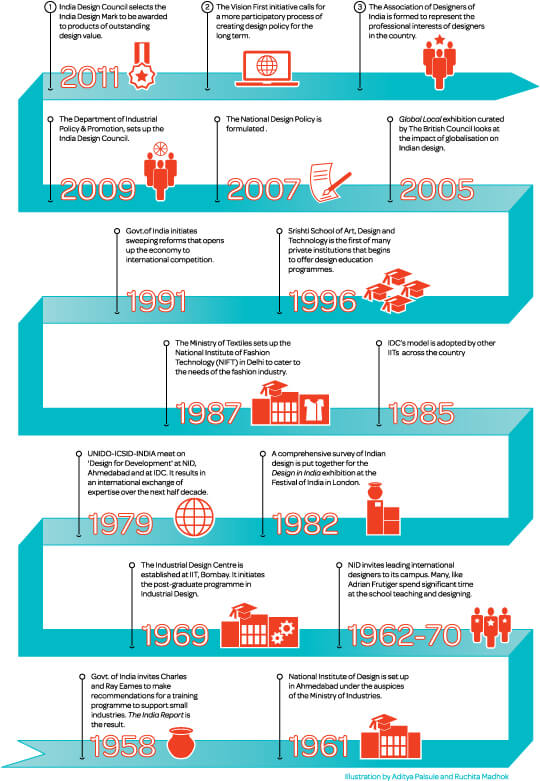 The status of design as a profession in India has a lot to do with how it is perceived: management is thought of as an essential cog in the machinery of business and design is looked at, as a value-added service. As a result, few organisations engage with strategic design thinking as a part of their work process, rather they consider design to be an add-on to an existing business model – as something that affects the products they create, rather than the way they conduct their business. Designers however, are taught differently: they are taught to consider design as an all-encompassing process, one that begins with the discovery of a need and ends with the fulfilment of that need, whether in the form of a product, system or service. They are taught that design is a tool, not an outcome; that it is a process, not a product. And then these students graduate, intrepidly entering the 'market' only to find that no one who hires them understands that they can do more than just making things look pretty. They realise that there is a gap between what they know is design, and what is perceived to be design.
Perception is shaped and formed by communication. In order for 'design' to be accepted and understood, the early centres of design education were encouraged to take the lead in communicating its principles, objectives and outcomes to the Indian public. While India was a land of myriad forms of creative expression from painting and sculpture to theatre and architecture, design was an unfamiliar concept. As a response to industrialization and new technologies of production, the West had understood design to be an industrial process and at the time that the establishment of NID was being considered, the prevalent philosophy was of International Modernism. Modernism however, looked and felt nothing like India's own art forms rich with tradition and millennia-old aesthetics: for one, it prided the utilitarian function of objects and brought rigorous scientific approaches to creative activities. Secondly, it regarded ornament as unnecessary thus alienating the Indian sensibility that enjoyed embellishment in every nook and cranny of everyday life.
Anticipating the challenges ahead, in the recommendations of The India Report, Charles and Ray Eames emphasised the importance of communication for the success of what would come to be known as the National Institute of Design in Ahmedabad:
The effectiveness of the program will depend on the communication links established. Some staff members must be prepared to work and train in communication techniques –exhibitions, graphics, printing, photography, film, demonstration, writing, drama. Through these devices the Institute will communicate to itself and to the nation.



Given the 50 years since the commencement of design education at NID (and 42 since the founding of IDC), it would be worth examining how well these institutions have communicated the principles of design to the rest of India. It would be worth the effort of course, if only one knew what they have done: the archives and libraries of these institutions are notoriously difficult to access and reportage about their past activities simply doesn't exist on the Internet. Their output of academic writing in peer-reviewed international journals is meagre at best and when it comes to interfacing with the public, there isn't a single volume of contemporary Indian design practice or thought that one would be able to find in book, DVD or film format. Despite the development of digital media these institutions have struggled to maintain a consistent, meaningful stream of conversation about design whether with each other, the public or with other institutions at large. Without the visibility and freshness that such a dialogue could bring, design is not valued in the same way as engineering, medicine or management. After all, if nobody knows a lot about design, why should they care about it?
If design is to be taken seriously, it is vital for it to be considered an inherent part of India's material, visual and social culture. In the recent past, there have been few platforms on which design from India can be viewed alongside the work of architects, artists, musicians, economists, art historians, anthropologists and writers. The last time such an effort was undertaken was in London's 1982 Festival of India. One of the key components of this festival was the creation of a traveling exhibition titled Design In India assembled by NID as an up-to-date survey of Indian design. The most interesting aspect of the event was that it was held at the same time as seminal exhibitions of contemporary Indian art, ancient Indian art, miniature painting and Indian crafts. With a complementary programme of theatre and dance, the festival was an all-round overview of every form of artistic pursuit from India. Design in this case was situated as one of the many disciplines in a vibrant creative economy and design from India was given recognition and context on a global stage.
And what about a local stage? Has design ever been presented in a wider context of the arts, industry and culture within India? When was the last time that an Indian museum, cultural centre or indeed, the Ministry of Culture commissioned a survey of Indian design?  Surely India has enough exhibition spaces in which products of communication design and industrial design can be displayed. Can it be that its own cultural custodians don't take design seriously? Or is it that they just don't know enough about design in order to embrace it as a worthy pursuit? Over the last decade, organizations such as the British Council, Goethe Institut, the Dutch BNO and the Alliance Française have found value in supporting Indian creativity in the arts and design. They have organized travelling exhibitions such as Global-Local in 2005, supported conferences such as UnBox and Design X Design and encouraged exchanges between practices in different countries. While their support is a much-needed boost of confidence and visibility, it is a little alarming that few of India's home-grown cultural organisations seem to be interested in taking the lead.
If a centralized response is the need of the hour, then the India Design Council with a mission statement to "undertake design awareness and effectiveness programmes both within India and abroad" would be the ideal candidate for the job, had it not been for its floundering start since inception in 2009. One of its first initiatives was the establishment of the India Design Mark that would be awarded to projects of outstanding design value. This exercise was meant to boost confidence in Indian design but a well-meaning open call for designs of the mark in early 2011 turned quickly sour when the design community realised that only a week had been allotted for entries to be submitted. Miffed at the short-sightedness of the competition and in turn, apparent insensitivity of the council representing their interests, Indian designers came together against the whole exercise as they have rarely ever done before. The competition was re-issued with an extended deadline and it seemed for a while that the passionate online discussions and debates would generate some kind of momentum: perhaps now the government-instituted body would take the wishes of the community seriously. In the weeks that followed however, dust settled on the controversy and one thing emerged – the design community realised the role that the Internet had played in making its voice heard.
While the Internet is not new technology to Indian designers, the India Design Mark controversy was the first instance in which it was used to effectively garner public opinion on a national scale. Writing in from studio computers and mobile devices both within India and abroad, the first space in which people responded was the Design In India Yahoo e-group. Founded in 2002, it has long been a lone corner where designers, educators and graduates have been able to share ideas and discuss design developments, but when it could no longer contain the debate, opinions spilled over onto social networks such as Facebook and Twitter; blogs reported the multiplicity of voices, newspapers caught up and designers (whether intentionally or not), were being heard outside of the community. Finally, designers were communicating about design.
A renewed sense of confidence and camaraderie in the aftermath of this controversy has been simultaneously supported by initiatives such Vision First and the formation of the Association of Designers of India (ADI). Vision First is a spirited call for professional designers and educators to be taken into counsel when formulating long-term design policy and educational strategy. The ADI in the meanwhile endeavours to be the first professional body to represent designers in the same vein as D&AD in the United Kingdom or AIGA in the United States. The core groups of both organizations coalesced through online collaborations and deliberations and all of this web-based activity makes one wonder – was the Internet what Indian design has been waiting for all this time?
Given the potential that this new medium of communication has to offer, it will be interesting to see how the Indian design community uses it to become more outward facing. It is an important step forward that designers have become more comfortable discussing design concepts and concerns on open platforms, but it is equally important that they don't just end up talking to themselves. Effective communication about design – a process that eschews jargon and protectionists stances – will go a long way not just in raising awareness about it, but will also foster more willing partnerships with government, industry and the public. At the end of the day, raising the profile for design is not just about recognition and six-figure salaries (although they would be very welcome), but about bringing the benefits of creative thinking to every facet of life in India. If communication leads to action and action to change, then design may finally take its place in the fabric of modern India alongside those hallowed professions of management, engineering and medicine.
References:
Eames, C. and R., 1958. The India Report. Ahmedabad: National Institute of Design
Press Information Bureau, Govt. of India. National Design Policy [press release], 08 February 2007. Available at: http://bit.ly/vWc8un [Accessed, 02 November 2011]
Vatsyayan K., 1982. Festival of India in London. Museum, Vol. XXXIV (no. 4), p.215
___
This article first appeared in Kyoorius Design Magazine, Issue 10.